14th Annual African American Community Heritage Festival - Online Payments and Donations supporting Huston-Tillotson University

Austin, TX
Event Details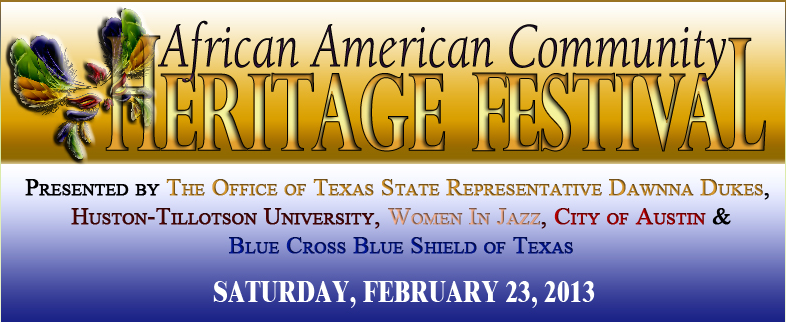 GENERAL VENDOR REQUIREMENTS and GUIDELINES

A vendor application must be competed.
Please download, complete and print the form; to return via fax or mail.
To download the vendor application, click on: vendor application.

Optional

Our vendor fees are priced to support the community and small businesses. We welcome any donations to support the Huston-Tillotson Scholarship Fund.
Thank you for helping us keep these booth prices down.

 GUIDELINES
The Office of State Representative Dawnna Dukes and Women in Jazz, Mayor Pro-Tem Sheryl Cole, the City of Austin, Blue Cross Blue Shield of Texas and Huston Tillotson University are happy that you'll join us for the 14th Annual African American Community Heritage Festival. The fun begins at 1:00PM and ends at 5:00PM. Entertainment will be featured on the main stage.
ARRIVAL:
Parking will be limited, therefore, it is wise to arrive early and adhere to the following guidelines:
 Your access to the Festival grounds on the central lawn of HT will be through the Chalmers street entry (see enclosed map.) Only Food Vendors operating from trailers will be allowed access through the main entry (Chicon Street). Once parked, Food Vendors must detach trailers from vehicles due to limited space.
For loading and unloading purposes only, you may temporarily use the reserved parking lot at the Chalmers Street entrance. Once loaded in, you will be required to move your vehicle from the lot and park along Chalmers street.

Please report to the volunteer/information tent upon arrival for sign-in and other information. A detailed map will be mailed to all the vendors prior to the event. If you do not receive one, or have other questions, please contact: austinheritagefestvendors@yahoo.com.
TECHNICAL:
 This is an outdoor event with no rain contingency.  No refunds.
Each vendor (except food vendors with trailers) will be provided one 8-foot table and two folding chairs. You may bring a tent, display items, and anything else that fits within your assigned 10' x 10' space. A small generator is permitted. No electricity will be provided by event management.


As with all outdoor events, keep these things in mind:

Wind is likely--bring paper weights, if needed

If using a tent, it should have some wind resistance

Be prepared to level your table if the ground is uneven

Bring sunscreen or a hat if you are sun-sensitive

  
We'll have volunteers and a golf cart on hand to offer assistance with loading and unloading from the Chalmers P/L for those requiring assistance.
 SALES:
We strongly support and encourage vendors to sell your products.
ONSITE ASSISTANCE:
After sign-in, staff and volunteers will be identifiable by our festival T-shirts. Let us know & we'll be happy to assist with any reasonable requests. An emergency cell-phone contact number will be made available to you at sign-in.

REQUIREMENT
A Vendor Application must be completed. You may download the vendor application.
 QUESTIONS:  Email: pamparker@austinheritagefestival.org or call: 512.222.7118.
 
Have questions about 14th Annual African American Community Heritage Festival - Online Payments and Donations supporting Huston-Tillotson University ?
Contact Austin Heritage Festival
Where


Huston-Tillotson University
900 East Chicon Stree


Austin

,

TX



Organizer
Austin Heritage Festival
The African-American Community Heritage Festival began in 2000. The founder, State Representative Dawnna Dukes, envisioned a family-friendly community celebration noting the contributions and achievements of African Americans. The former Boyd Vance, founder of Pro Arts Collective, joined her in this vision.  She is now partnering with Women in Jazz, with Mayor Pro-Tem Sheryl Cole, the City of Austin, Blue Cross Blue Shield of Texas and Huston-Tillotson University to continue the tradition of celebrating Austin's rich cultural history and diversity during Black History Month.  Financial contributions are processed through Women in Jazz, a 501(C)(3) organization, with proceeds going towards the Huston-Tillotson University Scholarship Fund.