1/28 WCS Events Deep house Extravagaza! IAN FRIDAY, KRISTI LOMAX and DERRICK WIZE! $10 RSVP!
Los Angeles, United States
Bummer! Sales have ended.
Unfortunately, tickets for this event are no longer on sale.
Event Details
$10 RSVP!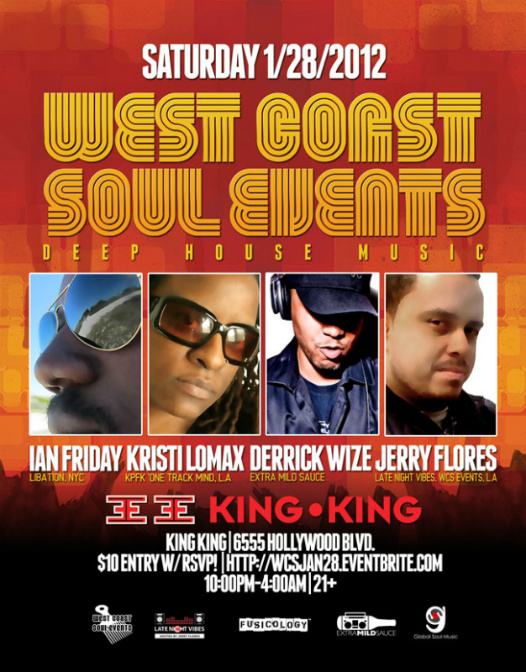 West Coast Soul Events brings the best in DEEP HOUSE Entertainment to SoCal!  And Keeping with that tradition, we have some BIG Entertainment in store for you, in 2012!!  To Start The year off correctly, we're having a DEEP HOUSE EXTRVAGANZA, with some of the VERY BEST Soulful DJ's from around the United States! 
We have a New York powerhouse, A Los Angeles DJ with one of L.A's best radio shows and a Dope Chicago, Deep House DJ, to keep those  booties shaking and feet moving, ALL NITE LONG!!!
From NY:  IAN FRIDAY!  International DJ and founder of New York's Dopest and Deepest House Spots, 'LIBATION'! 
From LA:  KRISTI LOMAX!  DJ of KPFK's Soulful Radio Show, 'ONE TRACK MIND'
From CHI TOWN:  DERRICK WIZE!  The Extra Mild Sauce Crew's Soulful Sound!
Deep House Music ALL NITE LONG, with the flavors from their cities!  I can't wait to hit the dance floor!
$10 Discount Entry w / RSVP!  RSVP Here: 
West Coast Soul Events - Lettin U Know What's Up, Out West!