Organizer
Many Helping Hands 365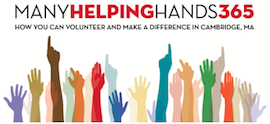 Many Helping Hands is a group of Cambridge residents and volunteers coming together to help fellow residents in need. We formed in late 2010 to host the 1st annual MLK Day of Service event in Cambridge in 2011. In 2013, at the 3rd annual Cambridge MLK Day of Service more than 1500 people came to spend the afternoon volunteering to help those in need in our community.  
In 2014, MLK Day of Service will once more take place in Central Squaree beginning with a Welcome Gathering on the steps of Cambrige City Hall. 
In addition to providing an opportunity for people of all ages to honor the legacy of Martin Luther King through personal volunteerism, our aim is to raise public awareness of the year-round volunteer needs in our community.
For more information or to get involved, please contact: manyhelpinghands365@gmail.com