Organizer
FounderPanel / Aaron Abram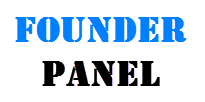 Panel discussions with elite Founders & C-level executives that teach entreprenuers how to grow their startups into successful companies.    
Past Panelists:  Activision, Amobee, eHarmony, Yahoo!, OpenTable, Shopzilla, Yammer, HauteLook, Cornerstone OnDemand, Accel Partners, Clearstone Venture Partners,TaskUs, Cooley LLP, Evolve Media Corp., Gorilla Nation, American Public Media, MyLife, StartEngine, Amplify, Launchpad, Hollywood.com, BigManBakes, TenderGreens & more.
Aaron Abram is the CoFounder & COO of Osurv which invented the mobile survey to make it easy for customers to give feedback.  Osurv is used by more than 27,000 customers including:  Starbucks, Dell, ZARA, Lululemon Athletica, Hyatt, AAA & Harely Davidson. Aaron is also the producer & moderator of FounderPanel.  

Led by Christopher Varin, President of the Entrepreneur Association (EA); is the largest student organization at the UCLA Anderson School of Management and offers its 800+ members a wide range of extracurricular activities, from networking events to experiential learning opportunities.  
As the largest-student run organization on campus, the EA takes advantage of its vast resources to put on 100+ events per year – or an average of more than three events per week. These include speaker series on entrepreneurship, hands-on workshops, intimate networking events with successful entrepreneurs, a world-class business plan competition, and a conference at the end of the year.

UCLA Anderson School of Management ranks among the top-tier business schools in the world. An award-winning faculty renowned for research and teaching, highly selective admissions, successful alumni and world-class facilities combine to provide an extraordinary learning environment in the heart of Southern California.
SPONSORS: