THE PEOPLE'S FILM FESTIVAL-Breaking All The RULES–A Filmmakers Conversation

Thursday, May 17, 2012 from 6:00 PM to 9:00 PM (PDT)

New York, NY
When & Where


ALOFT - HARLEM
2296 Frederick Douglass Blvd


New York

,

NY

10027

Thursday, May 17, 2012 from 6:00 PM to 9:00 PM (PDT)
Add to my calendar
Organizer
THE PEOPLE'S FILM FESTIVAL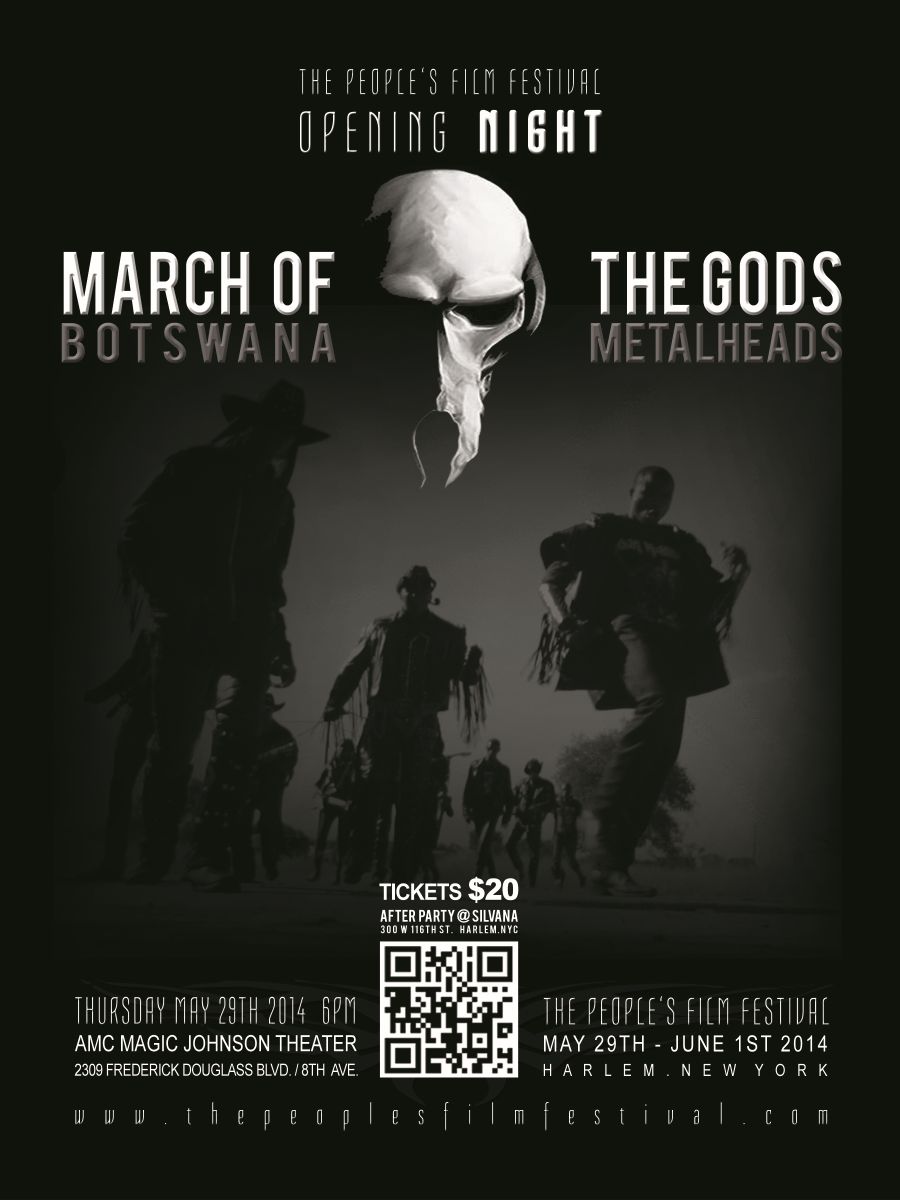 FOR IMMEDIATE RELEASE
"Persistence. Perfection. Patience and Power—to the People" (Criss Jami)
The People's Film Festival Announces Its 2014 Lineup
Howl-N-Madd Perry Scheduled To Perform Live
[New York, NY – April 28, 2014] The People's Media, Music & Arts Foundation (TPMMAF) and The Four Builders Foundation, today announced its line up for The 3rd Annual People's Film Festival, which will run from May 29– June 1, 2014, at the AMC Magic Johnson Theater and Maysles Cinema in Harlem.  The festival will feature over 2 dozen films, live music performances, panels and events, beginning with the opening night film—the New York premiere of "MARCH OF THE GODS- Botswana Metalheads," a film directed by Raffaele Mosca.  This film depicts Botswana's heavy metal subculture and portrays the unique local metalhead aesthetic which combines elements of British heavy metal of the eighties, cowboy fashion and biker elements—creating an interesting anthropological study of a subculture like no other.   This film will be shown at the AMC Magic Johnson Theater in Harlem, NY, hosted by supermodel & top runway coach Lu Celenia Sierra, followed by an after party at Silvana in Harlemwith live music performances and special guests DJ Universal Rell and DJ liL Ray.  Doors open at 5:30pm. Film starts at 6pm sharp.
This year TPFF will also host the first "People's Music Showcase" which will feature live performances from artists and musicians of all music genres.  Top music promoter Bea Montgomery who joined the People's Film Festival early this year, created three dynamic after party events at Silvana in Harlem NY, which includes performances from; Jiggy Jada- following the screening of "The Stop Bullying Project"; Mr. Two'Oh who will screen his experimental music short "Monster"; and a very special live performance from the legendary Howl-N-Madd Perry and his son Perry Jr, and daughter Sharo—from the Mississippi Delta, who's scheduled to perform following the New York Premiere of his documentary Howl-N-Madd Mississippi Blues Family Man.  Bea Montgomery comes to The People's Film Festival with over 30 years in music & entertainment—having worked with artists such as Black Rob, Bone Thugs N Harmony, Lil Jon & The Eastside Boys, Monica, Brandy, Soul For Real.  She was the talent producer for the International Independent Film Music Festival at Madison Square Garden and is the creator of The Mothership Television Show.  Currently she promotes Classic Soul & Funk concerts and her current project includes the New York International Independent Music Festival 2014.  Visit www.thepeoplesfilmfestival.com to see the complete list of performances and after party events.
Highlights of the People's Film Festival 2014 include the New York premiere of Pennsylvania Holy Ghosts directed by Allie Kenyon.  This film is about a young man who struggles to make peace with his estranged grandfather with the help of an unlikely new neighbor and a hulking 7ft tall red monster.   TPFF also welcomes the return of Jamaican filmmaker and TPFF Alumnus Wayne Benjamin who will screen his horror- folklore film "The Croft."  Saturday presents an encore screening of the two-part epic film directed by Philippe Niang, TOUSSAINT LOUVERTURE, leader of the Haitian liberation struggle.
Special Screenings and Panels
Friday opens up with the revisit of the classic film "Gully" starring Tyson Beckford.  This film will be followed by a New Media Panel - "Beyond the Digital Boundaries".  Filmmakers, App Developers and Music Producers will   explore how new media and technology has transformed the way we produce and distribute media and offer new solutions on how to best utilize this technology.  On Saturday, TPFF will address issues on "knowing your rights" with the groundbreaking documentary "Control"directed by TPFF Alumni Chris Bravo and Lindsey Schneider.  "Control" takes you inside of the criminal justice system documenting the daily challenges of a young 16 year old who was wrongfully accused of a crime that he did not commit.  A special Q & A and panel discussion entitled "Take Control" will follow, with the filmmakers and panelist comprised of criminal justice activists and youth advocates, who will address Issues of "open file discovery" and more.  This screening and panel is FREE and open to all, however, you must go online to secure tickets for seats in advance. 
TPFF SUNDAY CINEMA will feature 5 films of Family, Fun & Inspiration.  The Bicycle by John Reefer tells the exciting story about the lives of two unlikely foe, Teddy age 36 and Bobbi age 10, and their journey through the many worlds that make up their community ends up connecting them in a way neither could have imagined.  Set in the working- and middle-class enclaves of Queens, New York, The Bicycle captures a rare slice of the African-American experience.  The Closing Night Film which features the New York Premiere of "STILL STANDING", is a docu-drama directed by Michael Uadiale Jr, chronicles the joy and pain of a striving young American family, originally from Africa, living the America dream until a major tragedy alters the family's course.  It tells the story of a mother's plight—raising teenagers and caring for a husband, while trying to sustain the family core values, livelihood and her sanity.  It's designed to enlighten and provide audiences with insights from Africans into the continent's past, present and future.  It the festival will concludes with "The People's Awards Ceremony at The Maysles Cinema (at 343 Lenox Avenue, Harlem, NY).
For more information about full festival line up, tickets, schedule and after party events, please visit: http://thepeoplesfilmfestival.com
Tickets Are ON SALE NOW at TICKETBUD. 
Tickets for Opening Night & Reception at the AMC Magic Johnson Theater (2309 Frederick Douglass Avenue /8th Avenue) May 29, 2014, MUST BE PURCHASED IN ADVANCE.
Tickets for ALL Special Screenings & Panels at the Maysles Cinema

(at 343 Lenox Avenue, Harlem, NY) m

ust be secured in advance

. 

Each event is FREE.
After party events at Silvana (

300 W 116th St, New York, NY 10026)

are FREE, however, ticket holders will be given priority entrance to after party venues. 
MORE ABOUT THE FESTIVAL
The People's Film Festival (TPFF) celebrates the power of the media when placed in the hands of the people. The festival features screenings from emerging producers, videographers, and filmmakers from all over the world, reflecting both traditional and avant-garde style films, with an emphasis on films that integrate multiple digital platforms using today's new media & technology.  The People's Film Festival (TPFF) is an initiative of the People's Media Music & Arts Foundation Inc.—a 501 (c)(3) non-profit organization whose objective is to promote awareness in independent music, media and art across the globe while encouraging those—particularly in the Harlem, New York area, to develop a greater appreciation and understanding for cultural diversity in film.  
OUR SPONSORS
The People's Film festival is supported by: 360 Media Group, ALOFT Harlem, Be Ready.org, DoceUSA, Four Builders, GROGLME, GRUVI Juice, Lambert Treasures, McKinley Financial Group, MOSHOOD, Needle Time Records, Opera House Hotel, Royal Pet Care Inc., Seasoned Vegan, Silvana, SoHa Square, The Gospel Showcase, Ticketbud, VEP.
For More Info Contact:
mike@thepeoplesfilmfestival.com
Ticket price for Opening Night Film & Reception
May 29, 6:00pm (sharp):  $20   Doors open at 5:30pm!
Ticket prices for all individual film programs at
The Maysles Cinema (May 30- June 1, 2014): $12.00.
The People's Film Festival 2014 Line-up
Tickets may be purchased online @ TICKETBUD
OPENING NIGHT SELECTION:
MARCH OF THE GODS"- BOTSWANA METALHEADSdirected by Raffaele Mosca (THURSDAY, MAY 29, 2014 @ 6PM)

CLOSING NIGHT SELECTION:
Still Standing (NY Premiere) - Michael Uadialei  (SUNDAY JUNE 1, 2014 @ 3PM)
FRIDAY  May 30, 2014, 6pm – 12am
GullyRoderick Giles / USA /20 min. / Fiction   FREE
"BEYOND THE DIGITIAL BOUNDARIES" – New Media Panel Moderated by: Greg Lassiter. 
Panelist: John Reefer, Kenneth L. Aytch Jr, Steve Keitt, Roderick Giles, Al Thompson
Cargols! Geoffrey Cowper / Spain / 2012 / 17 min. / scifi
Code Blue Lee/ USA / 2010 / 90 min. / Q & A / Drama - Crime, Corruption, Suspense   Q & A
Tarzan (World Premiere) Signe Baumane / USA / 2013 / 3:43 min. / Animation / Music Video 
Imprisoned by Love  (NY Premiere) Michael Angelo / USA / 2013 / 90 min. / Fiction
The Croft (NY Premiere) Wayne Benjamin / Jamaica / 2013 /40 min. / Horror-FolkloreOriginal Language: Creole/ Eng.
SATURDAY  May 31, 2014, 12pm-12am
At The Crossroads (US Premiere) Debaranjan Sarangi / India / 2013 / 60 min. / Documentary / Original Language: Odia, Telegu, Kui, Hindi / English subtitles
Language Healers (NY Premiere) Brian McDermott / USA / 2014 / 40 min. / Documentary
Middle Passage (World Premiere)Melinda Holm / USA / 2013 / 40 min. / Documentary
       SHORT BLOCK I
Aquel No Era Yo" (It Wasn't Me) Esteban Crespo / Spain / 2012 / 23 min. / Fiction / Original Language: / Eng-Subtitles
18 Seconds (World Premiere) Nori Mizukami / USA /2013 / 9 min. / Documentary-Crime /NY
The Bully The Stop Bullying Project / USA / 2013 / 25 min. / Drama
Control (NY Premiere) Chris Bravo / USA / 2013 / 52 min. / Documentary
FOLLOWED BY: "TAKE CONTROL" Youth Panel- with criminal justice activists, law enforcement officials etc. FREE
       SHORT BLOCK II
Monster (World Premiere)Cory A. Kadamani / USA /2013 / 7 min. / Experimental / Narrative / Music Video
The Princess and the Musician (NY Premiere) Alejandro Montoya Marin/ USA / 2013 /14:50 min.  /Fiction
Howl-N-Madd Mississippi Blues Family Man (NY Premiere) Lee Quinby / USA / 2013 / 26 min./ Documentary
Pennsylvania Holy Ghosts  (NY Premiere)  Allie Kenyon / USA / 2013 / 120 min./ Drama
TOUSSAINT LOUVERTURE Philippe Niang /180 min / Franc e/ Docu-Drama/ Original Language: French /Eng-Subtitles
SUNDAY June 1, 2014, 12pm-6pm
          SHORT BLOCK III
Things You Shouldn't Know About Me (NY Premiere)Brian Conley / USA / 2013 / 5:50mi. / Documentary
Harlem Heaven's Hats Candance Barbot / USA / 2012 / 4;32 min./ Documentary
Samosa (US Premiere) Vick Krishna/USA / 2013/ 29min.  Comedy Original Language: Hindi/English
Mani- Pedi   Sandra Dixon / USA / 2013 / 10 min. /Comedy Original Language: English subtitles
The Bicycle John Reefer / James Richard / New York / 90 min. / Drama                     
Still Standing (NY Premiere)Michael Uadiale / USA / 2013 /101 min. / Drama
THE PEOPLE'S AWARDS