THE PEOPLE'S FILM FESTIVAL-Breaking All The RULES–A Filmmakers Conversation

Thursday, May 17, 2012 from 6:00 PM to 9:00 PM (PDT)

New York, NY
When & Where


ALOFT - HARLEM
2296 Frederick Douglass Blvd


New York

,

NY

10027

Thursday, May 17, 2012 from 6:00 PM to 9:00 PM (PDT)
Add to my calendar
Organizer
THE PEOPLE'S FILM FESTIVAL JUNE 2-5 2016 HARLEM NY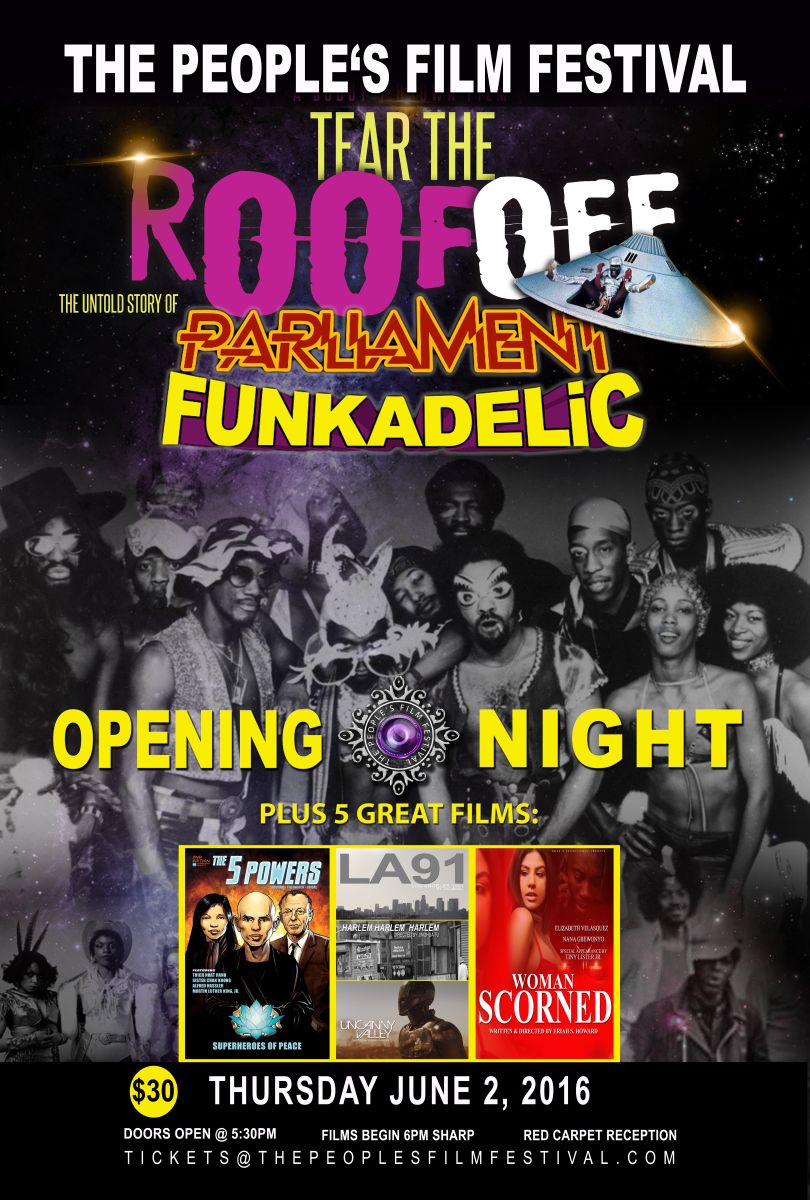 The People's Film Festival Announces Its 2016 Lineup
The People's Film Festival TO OPEN WITH "THE 5 POWERS" directed by Gregory Kennedy-Salemi& "TEAR THE ROOF OFF—The Untold Story of Parliament Funkadelic" directed by Bobby J. Brown", along with 4 Independent Short Films.
The People's Media, Music & Arts Foundation (TPMMAF)todayannounced its lineupfor The 5th Annual People's Film Festival (TPFF), which will be held June 2 – June 5, 2016, at the AMC Magic Johnson Theater, Maysles Cinema and Julia De Burgos Performance & Arts Center in Harlem.  The festival will feature over 60 films, including live music performances and panels.  "THE 5 POWERS ", a film directed by Gregory Kennedy-Salemi along with "TEAR THE ROOF OFF—The Untold Story of Parliament Funkadelic" directed by Bobby J. Brownwill open the festival along with 4 independent short films.  These films include: "A WOMAN SCORNED" directed by Eriah Howard- Drama, "UNCANNY VALLEY"directed by Frederico Heller – Sci-Fi, Action, "LOS ANGELES 1991" directed by Zacarías & Macgregor –Drama & "HARLEM, HARLEM, HARLEM", directed by Jinghua Tu—Documentary.  This event will be hosted by Radio & Television personality Greg Lassiter followed by a special P-Funk Tribute presented by Tina Thompson-Pope's "SKIN" dancers and live music performances presented the legendary Bea Montgomery of the Mothership Connection at the Harlem Nights Bar Lounge. 
"We are very excited about our 5th year Opening Night celebration because it represents the eclectic mix of films that we present each year," says Veronica Keitt, founder of The People's Film Festival.  "Our goal is to tell stories—tell everyone's story and by doing so we discover that each of our lives are intricately connected on some level and that the world is much smaller then we think."  This year's festival will also honor independent producers who produce original content on Public & Cable Access channels at The OOLEE's- Public Media Award of Excellence.  "There has been a paradigm shift in the way we create and consume media", says Veronica.  "Technology has made it affordable for everyone to come in to tell their stories using today's new media—and this year we are honored to have marketing expert Chaucer Barnes - Executive Director, Context Strategy at Translation, to show filmmakers how to effectively market and sell their films.  Chaucer Barnes is a communications planner and creative who specializes in setting the proper conditions for mass adoption. He leads the Context Strategy group at Translation, which enhances creative impact through the oft-overlooked vectors of brand behavior: sequencing, targeting, posture, and payloads. 
 THE 5 POWERS directed by Gregory Kennedy-Salemi. The 5 Powers is a moving fusion of documentary footage, historic montage and vivid animation that send a powerful message of peace. Using modern technology and dramatic storytelling, the film tells the story of 3 Superheroes of Peace who use the 5 Powers and their non-violent re-solution of conflict through a mind-ful, compassionate approach, to change the course of history and inspire millions around the world, planting seeds of peace in the deep mud of war.  The 5 Powers Movie, narrated by TV star Orlando Jones, follows the interconnected lives of Alfred Hassler, an American anti-war hero, Vietnamese peace activist Sister Chan Khong and Zen Master Thich Nhat Hanh, whom Dr. Martin Luther King Jr, nominated for the Nobel Peace Prize in 1967.  Filmmaker Gregory Kennedy-Salemi along with 'artivist' Iris Manca and Emmy Award Winner Noam Dromi will be in attendance for Q & A.
 TEAR THE ROOF OFF - The Untold Story of Parliament Funkadelic directed by award winning documentarian Bobby J. Brown who uncovered numerous secrets of the Rock and Roll Hall of Fame band, Parliament Funkadelic.  Members open up about the unorthodox methods they were paid, heavily exploited, and the creativity behind this unique genre of music. The untold story of the rise and fall of the greatest funk band ever. 
The People's Film Festival will kick off June 1, 2016 with a SPECIAL PRE-FESTIVAL EVENT at HOODWINKED ESCAPE, Harlem's very own escape room—a phenomenon that sweeping the nation.  "We're excited to partner with The People's Film Festival (TPFF)," says Sponsor Michele Ware, CEO and Creator of Hoodwinked Escape, Harlem's first real-life escape and adventure experience where Clue Finders use their wits to solve puzzles, riddles and codes to escape from a locked room in 60 minutes.  "It's absolutely wonderful that we have TPFF.   Harlem has long been known for its rich vibrant culture and historic landmarks, great music, literature and so much more … to add the Film Festival to that tradition is bar none! TPFF is setting the standard for film festivals in urban areas.  I congratulate them."  Hoodwinked Escape will offer special discounts to attendees during the festival.  Pompette Wines & Spirits will be conducting wine tasting during this kick off, along with traditional Mexican Dishes from El Karelljon, and tasty treats from Sprinkle Splash Sweet Shoppe.  In addition, Graphic Design NY / Visual Creatives Collective who's slated to host the panels during the festival will kick off at Hoodwinked Escaped beginning with "The Art of Storytelling".  Some of the other topics include; distribution, crowdsource funding and social media 101.
 Highlights of the People's Film Festival 2016
 TPFF welcomes the highly anticipated animation film "THE RETURN", directed by Iranian filmmaker Mohammad Hamedan.  It's a story about a bandit named Haran who is confronted with a decision to choose love or destroy the leader of the proselytes.  TPFF also welcomes the return of TPFF Alumni; Russell Brown with his new film SEARCH ENGINES—a comedy showing how sanity & relationships are put to test when a family is forced to survive without their cellphones,Michael Garcia and DJ EFN,who took us on a journey inside the world of hip-hop in Cuba and Peru, now takes us to Haiti with their latest documentary COMING HOME: HAITI, andNigerian filmmaker Moses Inwang who closes Friday night with "STALKER" a suspense-mystery about a highly successful fashion stylist Kaylah Lawal (Nse Ikpe Etim), who is being stalked by stranger who initially saved her life. 
 "DADDY DON'T GO" directed by Emily Abtis a powerful, must see documentary that explores the crisis of fatherlessness in America by capturing two years in the lives of four disadvantaged fathers in New York City as they fight to defy the odds against them and their unwavering commitment to parenthood despite those challenges. The Saturday Night Sports Block includes the "RUCKER 50" directed by Bob McCullough about the famed Rucker Park in Harlem; "This is My Cap" asatirical comedydirected by Adonis Williams about what fans will go through to "rep" their team; followed by THE LEGEND OF SWEE' PEAdirected byBenjamin May. This is a story about the life of native New York streetball legend and former NBAer  Lloyd "Swee' Pea" Daniels.  Sunday presents the powerful "ONE ROCK THREE RELIGIONS," directed by Isaac Hertz, whichstarts from Jerusalem's most politically sensitive site, the Temple Mount or Haram Al Sharif, and examines the effect the three Abrahamic faiths have on the Israeli Palestinian conflict and world peace.  Following that screening attendees are invited to attend the special 107th year Anniversary celebration at The Baptist House of Prayer—steps from Maysles Cinema. 
 Special Screenings and Panels
This year TPFF added a new location in East Harlem - The Julia De Burgos Performance & Arts Center (JdBPAC) at East 106th Street & Lexington Avenue.  Saturday films at the JdBPAC include: "MARATABAT – Pride & Honor" by Filipino director Arlyn Dela Cruz whose dramaticfilm tells the story of two feuding families theAbubakarsand the Mahardikasin the Providence of Maratabat in Southern Phillipines& their quest for power.  "THE AMAZINGNINA SIMONE"directed by TPFF Alumnus Jeff Lieberman,brings you on Nina's journey from the segregated South through the worlds of classical music, jazz joints & international concert halls.  Coney Island, Brooklyn director Jeffrey "Slice" Mortonintimately captures the range of emotions exhibited by mothers who unfortunately lost their child do to street violence in "OUR MOTHERS VOICES".  This film features an exclusive interview with the mother of Eric Gardner.  This will be followed by a special panel"WOMEN TALK BACK"— Challenges of Women In Film & Media in Today's Digital Age," moderated by NeeKee West- Media/Communications Strategist.  Speakers, panelists and audience members will contribute to a moderated discussion addressing issues on images, opportunities, and representations of women of color in the mainstream media.  Saturday night will also feature "THE HAITIAN POLO DOCUMENTARY" directed by Brooklyn's Junior Romelus—a story about young Haitian immigrants experience in Brooklyn New York during the 80's and mid 90's.  It will close with "LEGENDS OF FREESTYLE" directed by Staten Island, NY's Steve Stanulis, who takes you back to the mid-80's, the height of Freestyle music and how that music style has survived through today.
 WOMEN TALK BACK: http://bit.ly/tpff2016womentalkback
THE ART OF STORY SELLING : http://bit.ly/theartofstorysellingchaucerbarnes
THE ART OF STORYTELLING http://bit.ly/tpff2016theartofstorytelling
The Closing Night Film "THE LAST KING", directed by Sabina Bunin is a tale of power, greed, and honor in reclaiming the precious Kohinoor diamond which belongs the last king of Punjab, the Maharaja Ranjit Singh. The fabled Kohinoor diamond is a symbol of Sikh strength and pride which was stolen by the British 150 years ago and brought back to England where it was recut and set in Queen Victoria's crown as a mark of the British domination in India. Now the descendent Colonel Ranjit Singh (Steve Nijjar) a Special Ops Captain in the Canadian Army wants it back and will stop at nothing and no one to recover the Kohinoor diamond and bring it back to his people.
 The festival will conclude with "The First Annual OOLEE Awards" honoring Independent producers in Public & Cable Access and The People's Awards at The Maysles Cinema.  
For more information about full festival line up, tickets, schedule and after party events, please visit: www.thepeoplesfilmfestival.com
Tickets Are ON SALE NOW at TICKETBUD  or http://bit.ly/tpff2016ticketsandpasses
Tickets for Opening Night & Reception at the AMC Magic Johnson Theater (2309 Frederick Douglass Blvd.) June 2

, 2016

, MUST BE PURCHASED IN ADVANCE THROUGH

TICKETBUD

Doors open at 5:30pm.  F

ilms starts at 6pm sharp

.  *TICKET HOLDERS WILL BE GIVEN PRIORITY ENTRANCE TO ALL AFTER PARTY VENUES.
Tickets for ALL Other Screenings June 3

– June 5, 2016

will be

at the Maysles Cinema (343 Malcolm X Blvd. /Lenox Avenue at 127th Street) and Julia De Burgos Performance & Arts Center (1680 Lexington Avenue Between 105th and 106th Streets).
MORE ABOUT THE FESTIVAL
The People's Film Festival is an initiative of The People's Media, Music & Arts Foundation (TPMMAF)—which is a non-profit corporation whose purpose is to promote awareness in independent music, media, and art across the globe while encouraging those—particularly in the Harlem New York area, to develop a greater appreciation and understanding for cultural diversity in film. 
CONTACT:   Latresha Richards       lrichards@thepeoplesfilmfestival.com
For TPFF Press Credentials
Media Accreditation for the 5th Annual People's Film Festival is open through May 10, 2016
Please visit www.thepeoplesfilmfestival.com for more information.
Follow Us:           INSTAGRAM     FACEBOOK     TWITTER    YOUTUBE            
HASHTAGS:         #tpff2016            #thepeoplesfilmfestival
The People's Film Festival 2016 Lineup
Ticket price for Opening Night Film & Reception
June 2, 6:00pm (sharp):  $30.00   Doors open at 5:30pm!
Ticket prices for all individual film programs at
Maysles Cinema (June 3 – June 5, 2016): $12.00
Julia De Burgos Performance & Arts Center(June 4, 2016): $12.00
PRE-FESTIVAL EVENT:
HOODWINKED ESCAPE – WEDNESDAY JUNE 1, 2016 @ 6PM
OPENING NIGHT SELECTION:
THE 5 POWERS – (Harlem Premiere) directed by Gregory Kennedy-Salemi (THURSDAY JUNE 2, 2016 @ 6PM)
TEAR THE ROOF OFF—The Untold Story of Parliament Funkadelic (NY Premiere) directed byBobby J. Brown /  (@ 8PM)
CLOSING NIGHT SELECTION:
THE LAST KING –(US Premiere) directed by Sabina Bunin(SUNDAY JUNE 5, 2016@ 6:30PM)
THURSDAY June 2, 2016  6pm – 10pm
HARLEM, HARLEM, HARLEM directed by Jinghua Tu/ USA / 2014 / 5 min. / Documentary
A WOMAN SCORNED(NY Premiere) directed by Eriah Howard - / USA / 2015 / 12 min. / Drama
UNCANNY VALLEYdirected by Frederico Heller - / Argentina / 2015 / 9 min.  / Sci-Fiction / Action
LOS ANGELES 1991 (NY Premiere) directed by Zacarías & Macgregor-/ Spain / 2015 / 10 min. / Fiction, Action, Violence
FRIDAYJune 3, 2016 12pm – 12am
UNCONSCIOUSNESS WITH OPEN EYES

 

Zahra Jafari

/ Iran / 2015/ 5 min./ Drama
DAD &

MUM

Fabrice Bracq

/ France / 2014 /

6 min

./

Drama /

Original Language:

French

/ English subtitles

SOCK PUPPET

Richard Tatum

/ USA / 2015 / 7 min.. / Comedy, Drama, Romance

MARGARET

 

(Harlem Premiere)

 

Manan Singh Katohora / USA / 2015 / 13 min. / Comedy, Romance, Drama 
·

        

BY THE FOUNTAIN

Camille Mitchell

/ Canada / USA

/ 2016

/ 5

min.

/ Drama /romance
·

        

41 LOVE

Ikechukwu Onyeka

/

Nigeria / 2013

/ 108 min./ Comedy, Romance / English
BLOCK I
EXODOUS TO SHANGHAI  Anthony Hickox / Austria / 79 min. / 2015 / Drama, Adventure, Romance, Action
JUST MY LUCK Bill Hass / USA / 2015 / 91 min.  / Drama, Feature

A SUB IN BRICK CITY

Crystal Deniro Simmons

/

USA / 2015

/ 31 min. / Drama Action

ACROSS LINES Marcus Robinson / USA / 2014 / 30 min. / Drama
GREAT Curmiah Lisette / St Catherine / United Kingdom/ 2015/ 6 min. / Poetry

STILLETO DREAMS

James M. Perry / Nicolette Ellis

/

USA / 2015

/ 90 min. / Drama

THE RETURN

(US Premiere)

 

Mohammad Hamedani/ Iran / 2016 / 90 min. / Ukraine Animation Fiction / Language: Farsi

WHO'S THE TIKTIK?

Terimar Malones / Philippines / 2016 / 9 min. / Horror, Mystery, Crime

WHEN THE DUST SETTLES

James Brooks / Derek W. Wright Writer

/ USA / 2015 / 22 min. / Drama

THE CALL

(NY Premiere)

 

Quavondo Nguyen

/

USA / 2016

/ 22 min. / Drama / Thriller

STALKER

Moses Igwman

/

Nigeria

/ 2015 113 min. /

Suspense, Mystery

/ English
·

        

MY ENEMY MY BROTHER

A

nn Shin

/

Canad